Ross Jaylo Exhibit at Distinction Gallery
Distinction Gallery / ArtHatch
Distinction Gallery is proud to present "Fall To Rise" - a new exhibit by Ross Jaylo.
Exhibit runs September 9 through October 7.
Ross Jaylo, a New York based Filipino Painter and Multi-Media Artist, renders onto canvas his conception of an ideal love. A symbolic and passionate visualization of love that transcends beyond social norms and breaks the illusion that love must heed society's expectation of belief, social status, age, creed, race, gender and stereotypes. Love in its purest form.
At the young age of only 22, Ross has a promising career ahead of him. He has had several solo and group exhibitions throughout the Philippines and has participated in several group shows in the United States and Australia. Ross has received several awards including Cocolife "Colors of Life" National Painting Competition Grand Prize in 2006, University of Santo Tomas Benavides Outstanding Achievement Award in 2006, and Maningning Miclat National Painting Competition People's Choice Award in 2007. Ross's first solo exhibition with Distinction Gallery sold out before the opening reception.
Gallery Director - Melissa Inez Walker: "Ross is an incredibly driven and skilled artist. At just 22 years of age, literally every painting he has created has sold. His demand far outreaches the amount of paintings he can create. He is one of the kindest, most genuine artists I have worked with and I am thrilled to see what he creates for his upcoming show".
For more info, go to distinctionart.com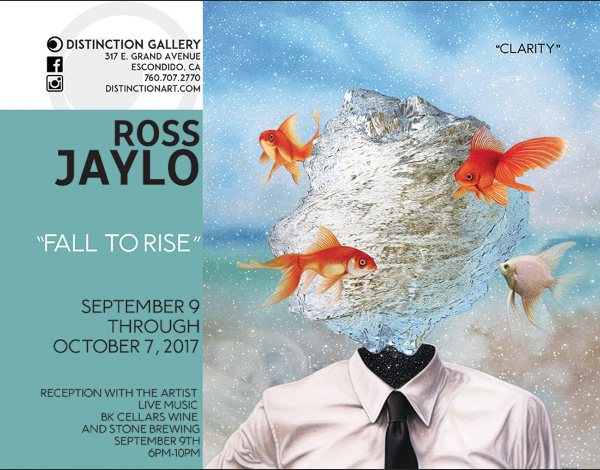 Distinction Gallery / Art Hatch Hours:
Tuesday - Friday: 11 am - 5 pm
Saturday: 12 pm - 5 pm
Second Saturday Receptions: 6 pm - 10 pm
About Distinction Gallery / Art Hatch:
Distinction Gallery was created in 2004 to give beginning and established collectors a venue to purchase high-quality, cutting edge artwork. Distinction has hosted over 120 exhibitions since its inception featuring emerging, mid-career and veteran professional artists. Distinction's artwork is available for purchase online to clients around the world, and most of our artists are available for commissions. In order to further expand offerings to the community, Distinction converted part of their location to ArtHatch, a non profit organization.
ArtHatch is a 7,000 square foot building which houses the front gallery: exhibitions changing monthly, "The Alley," featuring new and previous works from over 75 artists, the teen room featuring artwork by 15+ teen artists, 14 artist studios, ranging in size from 150 to 800 square feet, featuring the work of over 28 local artists, and "The Lounge", containing 8 walls featuring local artists. The front gallery features contemporary and cutting edge artwork.
---
This event is part of Escondido's 2nd Saturday Arts & Culture program!
For more information, click here.
This fantastic collection of diverse cultural experiences still includes the wondrously eclectic art galleries of Escondido's historic downtown and has grown to include arts, theater, museums and historical and educational experiences all around the area… and all throughout the day. Bring the kids, enjoy a date night, or a girls night out… there's something for everyone!